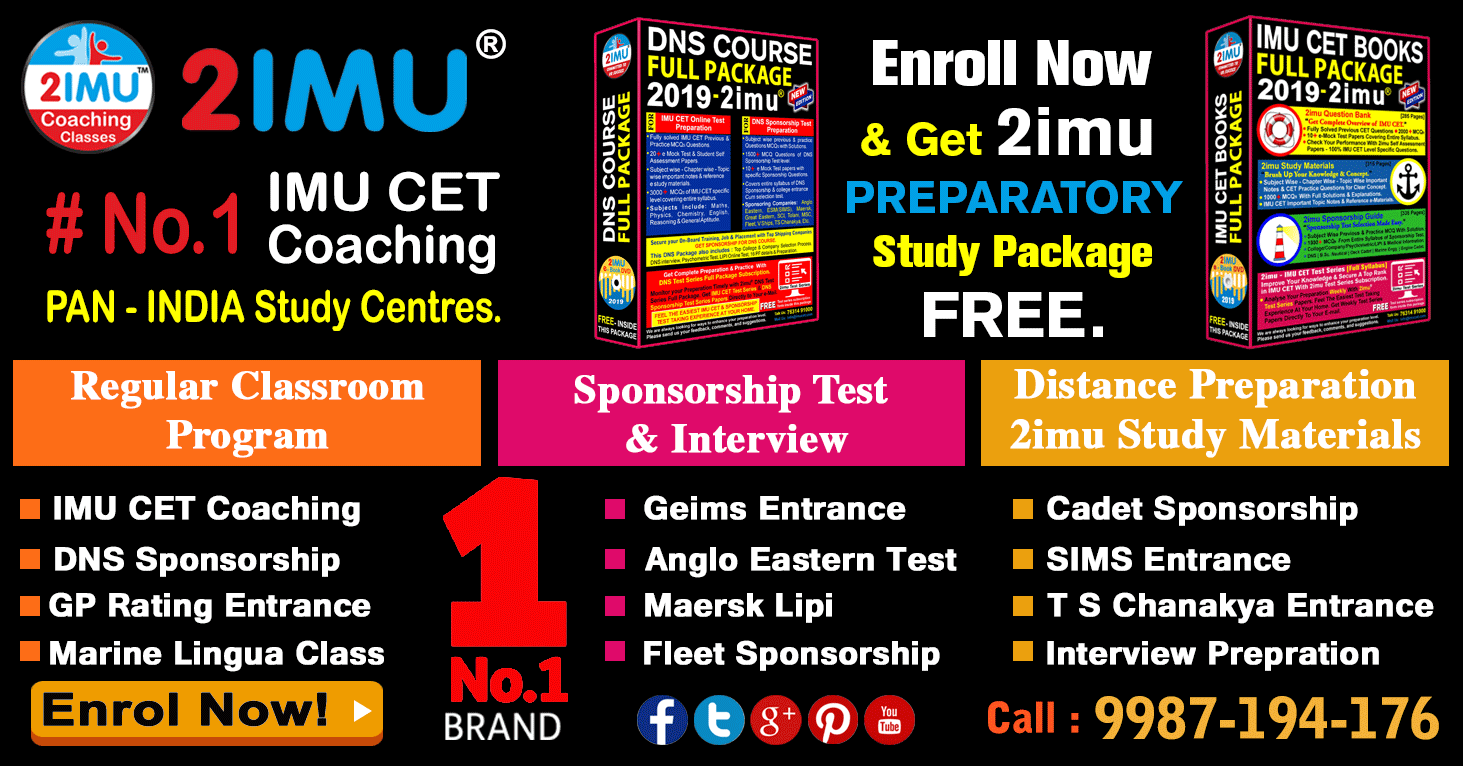 Success Story Of Your Maritime Careers Begins With 2imu®.
Whether You Are Looking For The Best IMUCET Coaching In Delhi, Mumbai, Delhi, Noida, Chandigarh Lucknow, Kanpur, Pune, Jaipur, Chennai, Dehradun, Kerala Or Anywhere Else In INDIA You Can Take 2imu Coaching Classes Or 2IMU Self Study Preparatory Package. Now Available @ Www.2imu.Com With Free Delivery All Over India.
Taking 2imu® Coaching Classes  Is A Great Way For 10+2 Appearing Or Passes Students To Familiarise Themselves With The IMU CET Exam's Content Practise And Shipping Company Sponsorship Preparation.  2imu Coaching Class Offers One Of The Best IMU CET/ Merchant Navy Entrance/ Sponsorship Test Preparatory Classes In The Country, And Is The Fastest Growing Network Of Maritime Preparation And Education Support Centres In Mumbai, Delhi & Patna.

Why Choose 2imu® Coaching Class For IMU CET Preparation ?
At 2imu Coaching Class, We Understand That A Preparatory Class Is Only As Effective As The Teacher Teaching It, And All Of Our Tutors Have Superior Educational And Maritime Professional Qualifications. Additionally, 2imu Coaching Class Courses Are Fully Customised To Meet Each Student's Individual Company Sponsorship Needs.
At 2imu Coaching Class ,Not Only We Help Students In IMU CET Online Test , But  Also Prepare Them For Reputed Shipping Company Sponsorship Exam. Besides IMU-CET , We Give Complete Preparation Support For Getting Sponsorship From Reputed International Shipping Companies (Approved By DG SHIPPING, Government Of India). 
2imu Coaching Class Makes Use Of Extensive, Elaborate And Highly Effectual Tried & Tested 360 Degree Preparation System which Is A Proven Formula For Success Of Our Students.
2imu Coaching Class Preparation Includes The Following -
Preparing Them For IMU-CET  2019 Exam. (Expected in the month of June)

Providing Opportunity To Get Selected In Worlds Reputed Shipping Companies.

Strengthening Their Core Skills For Shipping Company Sponsorship Test & Interview

Making Them Better Understanding Of Company Sponsorship Application & Selection Process.

Learning Them How To Effectively Face LI-PI Online, Psychometric  Test & Final Captain/Master Interview.

Practicing Weekly Mock Test, Subjective Test Series & Interview Rehearsals

Providing Specially Prepared Study Materials Of 2imu.

Determining Each Candidate's Specific Areas Of Improvement.
What Students Should Know Before They Take The IMU CET
Before Taking The IMU CET, It Is Important For Students To Know that Approved Shipping Company Sponsorship Is Equally Important As IMU CET Rank For All Candidates Willing To Make A Successful Maritime Career. "Sponsorship" Confirms Your Job/Placement/On-Board Training After Successful Completion Of Pre-Sea Training At DGS Approved College/Academy. So Getting Sponsorship Means – Having Job Confirmation Before Joining Merchant Navy Course.
2imu Coaching Schedule For IMU-CET June 2019 -
Enroll Today For 2imu Coaching Class – Seat Booking Is Going On! Limited Seats.
Seat Available – 120 Seats*
Schedule of  batches for IMU-CET + Sponsorship & Fee Details.
IMU CET Coaching Classes Regular Session
| | |
| --- | --- |
| Total Fees | Rs 30000 |
| Duration | 30 Days Crash Course |
IMU CET Date – Expected in the Month of June
Seat Booking Fees – INR 10,000/- (Non-Refundable)
For More Details Contact:
2imu® Coaching Class Centre.
Call Us - 7091404348 , 09987194176
MAIL - info@imucet.com Online Booking @ Www.2imu.Com 
IMU-CET Coaching Classes.
IMU-CET Coaching is the best way to score well at IMU-CET. Qualifying in IMU-CET is mandatory to get admission in any undergraduate program of IMU. Candidates those who are willing to get admission in IMU-Campuses or its affiliated institutes has to qualify in IMU-CET.Join us to get a good score at IMU-CET.We offer the best IMU-CET Coaching classes with experienced faculty. We provide the study-materials which are useful for both IMU-CET and Companies Sponsorship.

IMU CET Examination Pattern
Subjects - Mathematics (50 Marks), Physics (50 Marks), Chemistry (20 Marks), English (40 Marks), General Aptitude (40 Marks)

Total Marks: 200

Time Duration - 3 hours
Note:  There is no negative marking for wrong answers.

IMU-CET Study materials.
We provide the study materials which are useful for both IMU-CET & Companies Sponsorship test.

IMU-CET Mock Test.
We conduct IMU-CET Mock test every week to make candidate familiar with the IMU-CET Entrance Exam.
Few Companies like Bernhard Schulte Ship Management (India) Pvt. Ltd &companies having tie-up with International Maritime Institute.
Join us to get entry level support, guidance, preparatory material for both sponsorship & IMU-CET and best coaching classes for IMU-CET by our experienced faculty.
Highlights of our IMU CET Coaching Classes:
Our course structure is designed for optimum delivery while focusing on conceptual clarity, speed & accuracy resulting in peak performance. Our coaching classes proves to be very helpful for the candidate preparing for IMU-CETExam & Company Sponsorship Test.
360° CAREER DEVELOPMENT
Our comprehensive & proven Preparation pattern with regular class tests cover every aspect of preparation. This learning is carried forward in their attitude and careers.
FULL-TIME EXPERT FACULTY
With full time faculty specially equipped to handle career and exam preparation related questions, you can rest assure you are in safe hands.
REGULAR VISIT OF MARINE OFFICERS & ENGINEERS
Experienced Merchant navy officers of all ranks including Captains & Chief Engineers visits Our coaching classroom on regular basis so, our candidates could know the actual work on ship , work timing responsibility and duties at ship , life at sea and the required things to do best at sea world. They share their own experience and also reply to all queries made.
VISIT TO A MARITIME COLLEGE
For every batch, we organise visit to a maritime college & meeting with the students persuing courses in that college. This enables our coaching class candidate to know the living life styles at maritime institute, Rules to followed at maritime academy , Routine to be followed, Food & Accommodation styles. Also maritime college visit gives a practical view to our candidates in moving forward in shipping career.
PERSONALIZED MENTORING
One-to-one regular interactions and feedback sessions with our expert mentors and faculties offers an unparalleled test preparedness and hand-holding for career guidance.
PREPARATION INTENSITY
Our course structure is designed for optimum delivery while focusing on conceptual clarity, speed & accuracy resulting in peak performance.
OUR EXPERTISE GUIDELINES & SUPPORTS
Our well experienced experts team will always be ready to give entire support required by you.
We assure 100% selection in IMU-CET & Sponsorship Test.
Register for IMU-CET Coaching Classes by Paying the Registration Fees of  Rs 10,000 &  Get your Seat Confirmed